I know I have much to be thankful for in that his death was without suffering and his life's work, which was to love his family and all people he had a chance to meet, was a joy right to the end.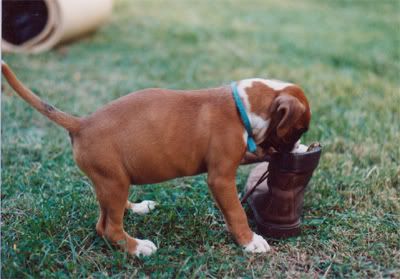 Duke, our 13 year old Boxer was put to sleep on Thursday evening April 28, 2008. 
His last meal was bison.
He was 13.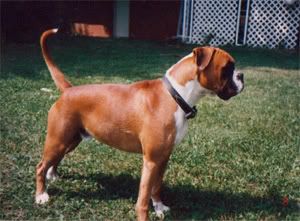 On Wednesday I took the kids to go buy "Daisy" a dog bed... making it official- we are keeping her. While we were gone, Duke must have had a seizure or stroke and when we came home he was changed and I knew he was at the end. A sad timing.
Only a week earlier he was cantering up the hill to our house after his daily "naughty trip" down to the bridge at the bottom of the hill ... I don't know what it was about that little walk to try to find some deer guts to roll in- but he loved to sneak off in the morning and be back by 10... I find some comfort in thinking that he must have been thrilled at his prospects when that last big bridge finally appeared before him...and on the other side he met his Bullydog friends Thelma and Darby, and Tyler the horse.


My son, pictured here six years ago, is taking it with tremendous courage. He's some kid. Duke took his job raising the kids (don't try to convince him otherwise) with tremendous good humor and patience.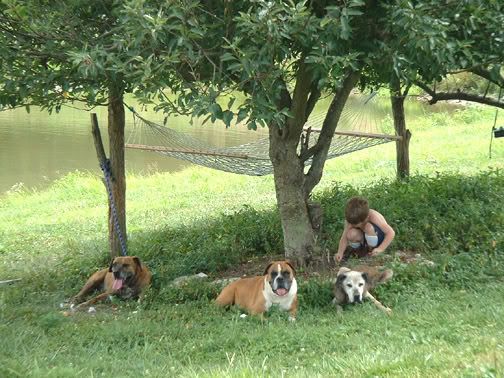 I remember a funny incident when my son was a baby- hardly mobile, and was on a blanket in the yard... I was gardening and jokingly told Duke to keep an eye on him. After some time I heard the boy start to fuss and turned around to find him at the edge of the blanket- arms and legs flailing- with Duke, grinning and proud, sitting on him.

Because of his tail and uncropped ears, many people didn't recognise Duke as a purebred boxer. He was certainly not showdog ideal- but he did come from AKC parents. He was picked from the litter at only 2 days old so that his tail would be spared when all the other puppies had theirs docked. This turned especially cute on the day we returned to the breeder to get him at 8 weeks and a sea of joyous boxer pups came bounding across the yard- but only one had a tail wagging above the brown wiggling mass... 13 years a puppy and always wagging.

Duke's nostril structure was awful- causing his breathing to be pretty loud and snorty. I had considered some surgery but the vet turned me away from that and suggested I learn to live with it. Who'd guess that now I'm crying to think of trying to learn to live without it. This garnered Duke all the conjugatable nickname variants of snuss, snussa, snussy. And just like a wife might train a man with with huffs and sighs... Duke had me trained to respond to his particular snorts and sniffs which could mean things like, "Dodi is sleeping in my bed would you get her out of it?" "Are you finished with that (burger, pizza, spaghetti... etc)?" "Did you not see me here standing at the door?" "I need a hug" "A little lower there... and to the right"

Did you know that Boxers give the best puppy kisses? That because it's all fuzzy lips and no cold nose.